Przepióreczka , Nałęczów

Address:

1 Maja 6 str. Nałęczów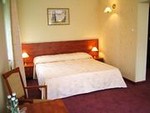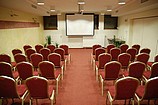 We are pleased to invite you to the "Quails" - the first hotel in Nałęczów. A well known hotel having a long tradition, has been carefully modernized and renewed to create a unique climate and comfortable conditions for relax and play.

Our guests can use 26 Air-conditioned, comfortably equipped rooms, a restaurant, a salt cave and a parking place. In the nearest future a hotel club will be prepared for guests that like fun as well as conference rooms for companies.
Our hotel has 26 rooms including

11 single rooms,

9 double rooms and

6 double rooms in deLUX standard (fitted for 3 persons) - including three with terraces.

All rooms are furnished in a lovely and comfortable way. The standard furniture includes a wardrobe, a wall panel, a dressing table with a mirror, chairs and bedside tables. Each room has a luxorious bath with a shower cabin, a TV and a telephone. The deLUX rooms are additionally fitted with a comfortable sofa, armchairs, a small table and a permanent Internet connection.

The standard number of offered sleeping places is 41 but 5 supplementary foldable sofas in the deLUX rooms provides 10 additional places without affecting the comfort of resting.

To promote a healthy way of life in such an exceptional place like Spa Nałęczów, the smoking in hotel rooms is prohibited.

The Air-Conditioning can be adjusted by the remote control in each room.
We invite you to a Salt Cave located in our hotel - a source of health, beauty and relax. You do not need to go to the seaside or to the saltmine to enjoy the benefits of curing, salty microclimate.

The cave has been built only of natural materials including a mixture of various salts, domestic and imported, mided and maritime. A special environment of salty spray - also in a closed room - is good for treatment of various diseases of respiratory tract, hypothyreosis, cardiovascular problems, disfunctions of nervous system, hyperthyreosis, states of lassitude and affected stress resistance. An appropriate air humidity, temperature and circulation inside the cave releases valuable ions of iodine, magnesium, potassium and bromine.
A lovely interior of our restaurant combines a modern smart style with furniture of a cottage. Among many items of menu you can find regional dishes served directly from oven as well as elegant dishes from Polish and international cousine. A rich culinary offer can satisfy even the most sophisticated taste.

We organize performances for special circumstances, banquets, events, balls, coctails, integration meetings and feasts. Apart from a professional choice of menu depending on character of the meeting, the professional staff is helpful at organizing the artistic milieu and a full arrangement so that each meeting will be an unforgetable experience. The restaurant can entertain up to 120 persons and together with a summer terrace with a view on the park - 250 persons.

We have a special proposal for people who want to marry!!!

The Quails Hotel is a ideal place for a wedding party.

The wedding ceremony and feast is one of the most important events in the life of each couple. We invite you to perform it at our restaurant. We will do our best to give you an exceptional experience.

The larger restaurant room fits has 90 places at table, the smaller one can be used for dancing. The rooms have glazed walls with exits to huge terraces. We can help you in preparing the interior outfit and appropriate music, our cuisine masters will prepare great dishes.

The hotel is located right in the centre of town, there are no problems with access and parking. A direct adjacence to spa park gives our guests a unique microclimate of this charming place.