Leśny Dwór, Sulęczyno dworek

Address:

ul. Żeromskiego 15 Sulęczyno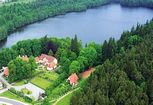 ...do you want to take your family to a great, colorful area with many lakes, ponds, forested hills, beautiful lowlands, where the air is clean and filled with the smell of pine trees?

In this beautiful scenery you will find Leśny Dwór…Kashubia is a colorful region,That attracts everyone that wants to regain strengthusing the fresh airand enjoy amazing views.

In this beautiful scenery lies Sulęczyno,An old nobility town located in the midst of forests and lakes.

LEŚNY DWÓR has its headquarters, which offers you 50 accommodation places in 1-person and 2-person rooms and 3-person, 4-person studio apartments that have two bedrooms and a living room.
LOCALIZATION AND DIRECTIONS GPS coordinates: W: 17º 46 50 N: 54º 14 6The place lies on the coast of Lake Węgorzyno in the surrounding of 2.5 ha of a historic park, we have a port with swimming equipment, a tenis court, a park volley ball pitch. On the terrain of the Hotel LEŚNY DWÓR there is the possibility of the wireless Wi-Fi internet access.


Sulęczyno, a county village in the Pomorskie Voivodeship, lies by road No 228 that connects Kartuzy with Bytow.

An optimal, checked connection to the heart of Poland is:

- from Warsaw: national road No 7 for Płońsk, before Płońsk turn left into national road No 10 for Bydgoszcz.
Road No 10 through Sierpc to Lubicz (195 km from Warsaw, 12 km from Toruń). Attention: in Lubicz there is a low visible road sign to take a right on road No 552 for Łysomice. On the way to Lubicz in Grębocin there is an intersection with lights with national road No 15 Toruń – Olsztyn – go straight.
In Łysomice we take a right into national road No 1. In Świecie we ignore the exit for Gdańsk and we keep going straight for Tuchola and Chojnice.
In Chojnice we abide by the road signs in the direction of Kościerzyna – road No 235. After 48 km there will be a village, Lipuska Huta, and about 1.5 km after passing this village there will be a road sign to take a left to Lipusz. We keep to the same road through Lipusz and when nearing to the end of the village after passing by railroad tracks keep heading to Sulęczyn on an asphalt road – around 16 km.
After this road there will be an intersection with road No 209 – Kościerzyn – Bytów.

If you will have trouble finding the exit from road No 235 to Libusz then exit through Kościerzyna, in Kościerzyna abide by the road signs for Łeba and Lębork (road No 214), after 15 km on the intersection in the village of Klukowa Huta, take a left in road No 228 for Bytów – after 8 km there is the village Sulęczyno.

- from Łódź: always keep to national road No 1 to Świecie and then just as written above: Tuchola, Chojnice, etc. Attention: before Toruń turn right for the bypass of the city, this will save you a troublesome journey through traffic especially around the bridge on the Vistula in Toruń.

- from Wrocław, Poznań, Gorzów Wielkopolski: through Piła, Jastrowie, Człuchów to Chojnice, in Chojnice turn for Kościerzyna and the rest as written above.

- from Szczecin, Koszalin: national road No 6 to Sławna, right after the town take a right for road No 209 to Bytów. Along the way in the village of Suchorze there will be an intersection with national road No 21 Słupsk – Poznań. In Bytów abide by road signs for Kartuzy (road No 228). From Bytów 25 km to Sulęczyn. During tougher driving conditions (winter time) we suggest to drive from Sławna further down the national road No 6 for Słupsk and then just as written below.- from Słupsk: Take national road No 6 to Gdańsk. After 21 km (on the right side there will be a large petrol/gas station) in the village Nowa Dąbrowa take a right onto road No 211 to Sierakowice – Kartuzy. Road No 211 to the village of Gowidlino (40 km from the exit from road No 6). In Gowidlin there is a low visible road sign to take a right to Sulęczyn. From there it is only 12 km.
All rooms are highly sanitary, equipped with Satellite TV, radio, and studios and comfort rooms also have refrigerators.
The restaurant and bar ensures full gastronomic service, the basis is fine Polish cuisine, wild meat, and delicious fish.
Two conference rooms: a large one named "Stodoła" (Barn) can fit up to 70 people, comes equipped with all essential materials for schooling and conference:
Multimedia projector,
Overhead projecter, and also
For pictures and documents ( the possibility of presentations, for example; old photographs during integration meetings),
Flipchart
A screen with the option of printing pictures, TV, DVD.
A small confrerence room named "Kominkowa" (Chimney) that is prepared for 25 people with an additional recreational place with a chimney, where you will also find a pool table and foosball table.