Brodnica PALACE, Brodnica

Address:

Palac Brodnica 37 Brodnica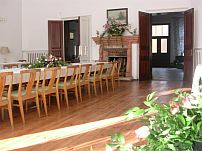 The Brodnica Palace in BRODNICA is situated approx. 30 km south of POZNAN. If driving from Poznan, take the road southwards to the town of MOSINA, then continue ahead following the road directions for about 10 km and you will reach the BRODNICA Palace.The palace of the Mankowski family in Brodnica was built in 1890 by Waclaw Mankowski and his wife Antonina Chlapowska, the granddaughter of General Dezydery Chlapowski, who was an officer in Napoleons army and a baron of the French Empire. Built in Renaissance style, the palace is situated in a large landscape park hiding numerous nature phenomena.The grave of General Wybicki, author of Polish national anthem, is located by the church.After renovation the Palace has been keeping up the former atmosphere of olden days.The owner receives guests personnally
The Palace offers 24 sleeping places in 10 rooms equipped with modern bathrooms.
Two living rooms, a library, a bar, jazz club, a business center and the hunters room.
Brodnica mansion offers delicious home cooking, Polish and continental.
The Palace has a capacity of 100 people for conferences in the ball room and 45 seats in the dining room.