Zamek w Otmuchowie, Otmuch贸w

Adres obiektu:

ul. Zamkowa 4 Otmuch贸w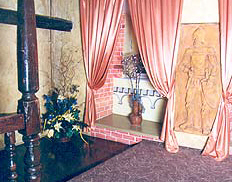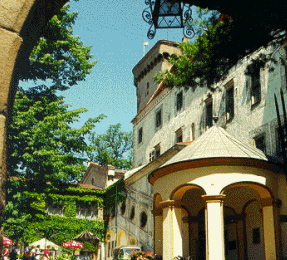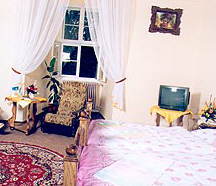 Historia Zamku Otmuchowskiego rozpoczyna si臋 w pierwszej po艂owie XII wieku, kiedy to papie偶 Hardian nadaje ziemi臋 otmuchowsk膮 wraz z zamkiem we w艂adanie biskupom wroc艂awskim. To dzi臋ki ich interesom i inicjatywie zamek ulega艂 przeobra偶eniom i rozbudowie. Istnienie zamku po艣wiadczaj膮 tak偶e dokumenty, jeden z 1245 roku, drugi za艣 z 1261 roku, gdzie wymieniono budowl臋 jako castrum i wspomniano o obecno艣ci kasztelana.Z pierwotnego za艂o偶enia zamkowego do dzi艣 zachowa艂o si臋 jedynie skrzyd艂o p贸艂nocno-wschodnie ale i ono stanowi niema艂膮 atrakcj臋 Ziemi Otmuchowskiej.
Otmuch贸w to niewielkie miasteczko turystyczne s艂yn膮ce z zabytk贸w, kwiat贸w, jezior oraz rekreacji, po艂o偶one niedaleko Nysy, 100 km na po艂udnie od Wroc艂awia.
Go艣ciniec posiada 70 miejsc noclegowych w tym:dwa dwuosobowe apartamenty, 8 pokoi jednoosobowych, 22 pokoi dwuosobowych (w sze艣ciu z nich istnieje mo偶liwo艣膰 korzystania z dostawki), 3 pokoje trzyosobowe. Wszystkie pokoje z natryskami i toaletami wyposa偶one s膮 w telewizor (telewizja kablowa) i telefon.
sala rekreacyjna, si艂ownia, kort tenisowy, wypo偶yczalnia sprz臋tu sportowego, sala komputerowa oraz niestrze偶ony parking.
W dawnej sali rycerskiej zachowa艂 si臋 du偶y kominek z ruchom膮 艣cian膮. Wn臋ka za kominkiem, umo偶liwia艂a pods艂uchiwanie rozm贸w jakie toczy艂y si臋 w sali rycerskiej przez zaufanego cz艂owieka, kt贸ry dostawa艂 si臋 tam za pomoc膮 zwodzonej drabiny, a p贸藕niej schodami wiod膮cymi z biblioteki. R贸wnie偶 ten stary, 艣redniowieczny pods艂uch zachowa艂 si臋 do dzi艣. Podobnie jak dwie cele 艣mierci: g艂odowa i zapadnia. Zapadnia to niewielkie pomieszczenie z dwiema wn臋kami do przetrzymywania skaza艅c贸w i ruchomym kwadratem pod艂ogi, kt贸ry uruchamiano w momencie kiedy zwracano si臋 do skaza艅ca s艂owami "id藕 jeste艣 wolny", a ten kieruj膮c si臋 w stron臋 drzwi trafia艂 na to w艂a艣nie miejsce i spada艂 20 metr贸w ni偶ej, gdzie znajdowa艂y si臋 fundamenty wie偶y z zaostrzonymi 偶erdziami nie daj膮cymi szans prze偶ycia. Nad zapadni膮 znajduje si臋 cela g艂odowa z zachowanymi znakami, rysunkami i literami wyd艂ubanymi paznokciami przez skaza艅c贸w.
Hotel zaprasza do restauracji na 100 miejsc oraz baru na 40 miejsc. Restauracja proponuje tradycyjn膮 staropolsk膮 kuchni臋 - specjalno艣ci膮 jest sandacz po otmuchowsku i opolski 偶urek.
Hotel organizuje zjazdy, konferencje i szkolenia w 2 salach (na 120 i 50 os贸b). Sale wyposa偶one s膮 w sprz臋t konferencyjny. Mo偶liwe jest wynaj臋cie sali z 10 stanowiskami komputerowymi. Miejsc konferencyjnych: 170