Hotel Astor *** , Jastrz臋bia G贸ra

Adres obiektu:

ul. Rozewska 38 Jastrz臋bia G贸ra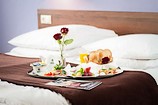 Hotel Astor *** po艂o偶ony jest w najpi臋kniejszym miejscu polskiego Wybrze偶a, w Jastrz臋biej G贸rze - jednym z najmodniejszych kurort贸w nadmorskich, zaledwie 100 m od brzegu Ba艂tyku. Wielka go艣cinno艣膰 oraz przyjemna atmosfera sprawiaj膮, 偶e hotel sprawdza si臋 w ka偶dej sytuacji. Dla nas zawsze b臋dziesz kim艣 wyj膮tkowym, kim艣 kogo chcemy stale zaskakiwa膰. Opr贸cz komfortowych pokoi i wy艣mienitej kuchni czeka na Ciebie wiele atrakcji.
Centrum Odnowy Biologicznej oferuje us艂ugi kosmetyczne i masa偶e na najwy偶szym poziomie. W ofercie m.in. r贸偶norodne pakiety SPA o w艂a艣ciwo艣ciach upi臋kszaj膮cych, odm艂adzaj膮cych i odchudzaj膮cych. Nowo艣ci膮 s膮 pakiety SPA rekomendowane osobom zapracowanym i przem臋czonych
Hotel Astor*** oferuje Pa艅stwu 118 komfortowych i przestronnych pokoi oraz apartament贸w (350 miejsc noclegowych) z balkonami, z kt贸rych rozci膮ga si臋 pi臋kny widok na otaczaj膮ce hotel lasy i Morze Ba艂tyckie. do pa艅stwa dyspozycji oddajemy:6 pokoi jednoosobowych29 pokoi dwuosobowych ma艂ych35 pokoi dwuosobowych du偶ych36 apartament贸w junior12 apartament贸w seniorwyposa偶enie pokoi i apartament贸w: 艂azienka, suszarka do w艂os贸w, galanteria hotelowa, TV, telefon, lod贸wka, wi-fi
Oferujemy Pa艅stwu basen, saun臋 such膮 i parow膮 a dla os贸b lubi膮cych aktywne sp臋dzanie czasu polecamy centrum fitness. Wszystkie te us艂ugi wliczone s膮 w cen臋 pobytu.pozosta艂e us艂ugi:bowlingbilardtenis sto艂owytenis ziemnypok贸j zabawplac zabawbusiness roomsala clubowakijki do Nordc Walkingrowery
restauracjaStylowa restauracja z letnim tarasem Hotelu Astor s艂ynie zar贸wno z wy艣mienitych da艅 kuchni kaszubskiej, jak i z wyrafinowanych potraw z r贸偶nych zak膮tk贸w 艣wiata. Dla grup zorganizowanych hotel przygotuje specjalne menu (np. Tematyczne: kaszubski, w艂oski orientalny, egzotyczny etc)lobby barAlkohole z ca艂ego 艣wiata serwowane na wiele sposob贸w i zaciszne miejsce wieczornych spotka艅 z przyjaci贸艂mi przy stoliku – to najwi臋ksze zalety baru w lobby Hotelu Astor.
Hotel Astor *** to r贸wnie偶 najwi臋kszy obiekt konferencyjny w tej cz臋艣ci Wybrze偶a, kt贸ry udost臋pnia 8 sal o powierzchni od 20m2 do 800m2. Najwi臋ksza z sal, New York, jest w stanie pomie艣ci膰 do 1200 os贸b w uk艂adzie teatralnym z mo偶liwo艣ci膮 szybkiego, 艂atwego i sprawnego podzia艂u na 4 sale, nosz膮ce nazwy popularnych dzielnic Nowego Yorku: Brooklyn, Manhattan, Broadway, Long Island. D藕wi臋koszczelne 艣ciany przesuwne zapewniaj膮 komfort odbywania wszelkiego rodzaju prezentacji, spotka艅 biznesowych, szkole艅, targ贸w oraz bankiet贸w. Pozosta艂e 3 sale konferencyjne nosz膮 nazwy najpi臋kniejszych miast 艣wiata. Wszystkie sale wyposa偶one s膮 w profesjonalny sprz臋t multimedialny.