Astor Hotel ***, Jastrzębia Góra

Address:

38 Rozewska St. Jastrzębia Góra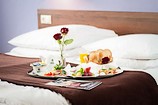 It is our pleasure to introduce you with a most comfortable leisure and business hotel, Sporthotel Astor in Jastrzebia Gora, one of the finest, most picturesque and northeast polish seaside resorts, only 60 km from tri-city of Gdynia-Sopot-Gdansk. The hotel proves its value with not only the number, size and high standard of its rooms and suites, but also a wide choice of extra services combined with its perfect location (less than 50 m from the Baltic sandy seashore), all of which provides excellent relaxing and holidaymaking conditions.
The Biological Regeneration office in Hotel Astor offers cosmetic services and massage on the highest level, with the use of Guam, Agyptos and Thalgo products. A qualified cosmetician is at the guests disposal, proposing a dozen or so various care treatments, such as algae, electro stimulation, masks with collaurin, therapeutic mud and paraffin compresses, and also the most fashionable treatment with the use of chocolate and red wine. Aside from traditional peeling, the parlor also proposes ultrasound peeling, cleaning the skin with the use of ultrasound. In the offer guests will also find efficient depilation, effective make-up, henna and professional manicure and pedicure.

For the relaxation and health of our Hotel guests we offer massages, including acupressure and stimulating lymphatic drainage massage. Also worth mentioning here is aromatherapy, the computer stimulation of the muscles and ultrasound therapy. All treatments are given by qualified masseurs with a rich professional experience.

Hotel Astor specializes in fulfilling the wishes of our guests, even before they think about them. Do you like to plunge into the swimming pool and afterwards sit in the sauna - dry or steam? Get into shape with professional exercise machines in our center fitness? Hotel Astor was created to assure our guests relaxation in every form. All of these services are included in the prices of the accommodations.

Hotel Astor also cares for those who would like to lose a little weight and care for their health. With such persons in mind we have specially created fitness and weight loss vacations. Thanks to the superb location of Hotel Astor - only 100 m from the Baltic shore, ours guests can join the pleasurable with the profitable i.e., physical exercise with the admiration of the seaside scenery and delighting themselves with the noise of the waves and air rich with iodine.

We also offer a rich program of activities included in the price, lots of additional attractions and rich recreational facilities.
The Hotel offers 118 rooms and suites, all of which have balconies, bathrooms, TV sets, telephones and fridges. In the bathrooms you will find a shower cabinet, hairdryer, towels as well as bathing and hygienic items.
There is a restaurant, night-club (open on Saturdays until 22:00), 4 bars, boutique, newsagent; beauty, hairdresser and massage salons as well as a kids playground. Guarded parking lot and underground garage.
6 conference rooms with state of the art technical equipment.