Muzakowski Park (also known as Muskau Park) is not an obvious destination if you spend in Poland only a week. Located on the border with Germany, far from major Polish cities is not so easily accesible but here I would like to show you it's worth it!
Muzakowski Park is a large English landscape park that straddles the border between Germany and Poland. It was created by Prince Hermann von Pückler-Muskau in the 19th century, and it is considered one of the finest examples of landscape gardening in Europe. Hermann von Pückler-Muskau was a famous landscape designer and writer. The park was his life's work, and he poured his heart and soul into creating a space that would inspire and delight visitors.

The park covers an area of over 700 hectares and includes a variety of landscapes, from forests and lakes to meadows and gardens. Because the park straddles the border between Germany and Poland, visiting it can provide a unique opportunity to experience two different cultures in one trip. You can visit both the German and Polish sides of the park, and see how each country has put its own stamp on this shared natural wonder.
Biking in Muskau Park can be a great way to explore and enjoy the park. One of the advantages of biking in the park is that it allows you to cover more ground than you would on foot. The park has many bike paths and trails that are well-maintained and easy to navigate.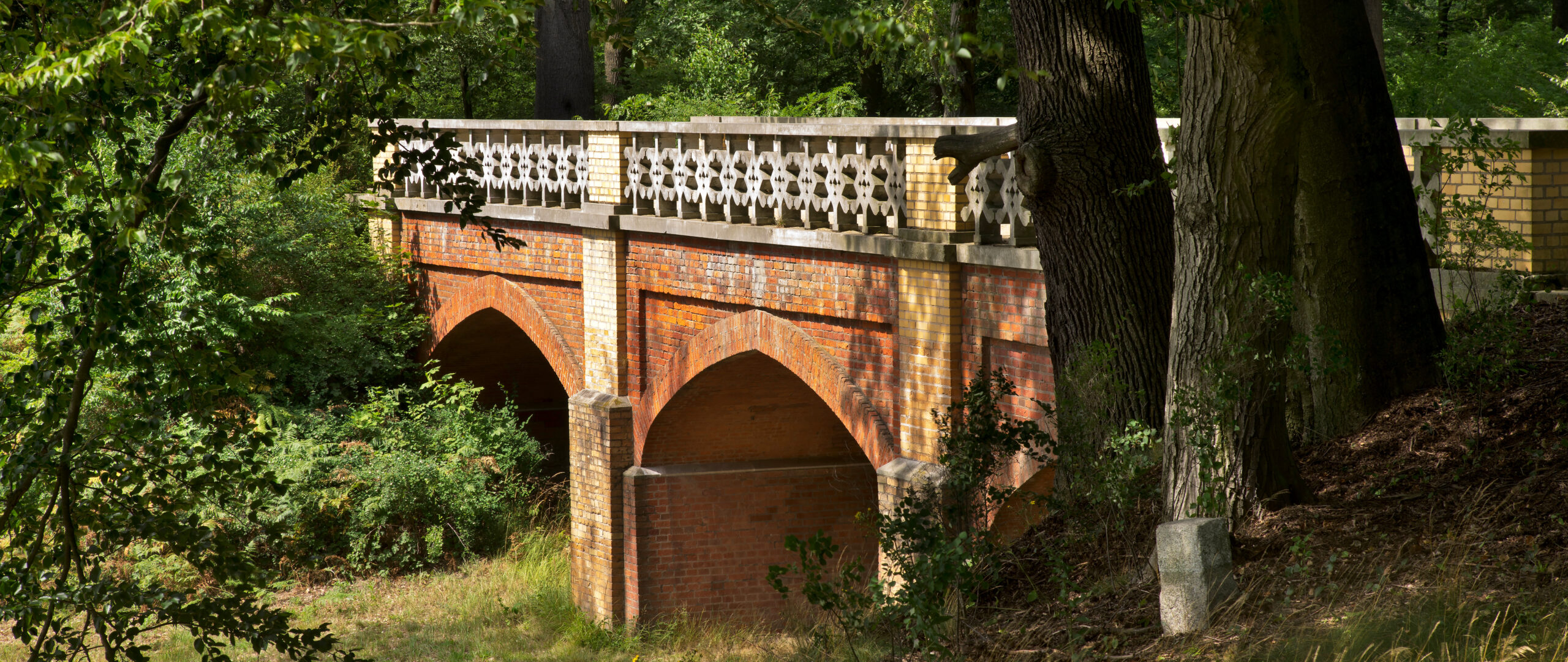 While you are in Muzakowski Park, you should definiely see the New Castle. It is an impressive example of Neo-Renaissance architecture and features a mix of styles and motifs from different periods, including Gothic and Romanesque elements. Today, the New Castle serves as a museum that showcases the life and work of Prince Pückler-Muskau. Its stunning architecture and scenic location make it a must-see attraction for visitors to Muskau Park.
The next stop should be a rose garden: this part of the park features over 15,000 rose bushes and is a popular spot for flower lovers. The garden is designed in a formal style, with geometrically arranged flower beds and walkways, and features a variety of rose species, including climbing roses, shrub roses, and miniature roses.

The park is famous for its beautiful architecture and impressive network of bridges that cross over the Nysa River.
Muskau Park was inscribed as a UNESCO World Heritage Site in 2004. It was recognized by UNESCO as an exceptional example of a landscape park designed in the 19th century, which integrated the natural environment and human-made structures in an aesthetically pleasing and harmonious way.
Just a few km from Muzakowski Park you will find Babina Geoturistic Trail: https://www.intopoland.com/geotouristic-babina-trail