This World War 2 Tour is a perfect choice for those interested in history of the World War II. Almost all territory of Poland was affected by war so you can find relative places virtually everywhere. World War II Sites tour covers some of the most important sites and will give you opportunity to learn more about that tragic times. You will visit Warsaw and Krakow, Auschwitz and Kulmhof, Riese Complex in Lower Silesia, Gdansk with Westerplatte and Hitler's headquarters known as Wolf's Lair.
Day 1: Arrival to Warsaw
Transfer from Warsaw Chopin Airport to your hotel. Accommodation.
Dinner & overnight in Warsaw
Day 2: Warsaw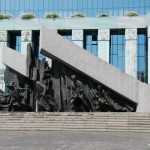 We will start our thematic tour with Sightseeing of Warsaw, the capital of Poland. It is often called the city of contrasts and paradoxes. Nearly the entire Old Town was wiped out during the Nazi occupation and then rebuilt with the efforts of all Poles. Our local guide will take you around the capital giving a general idea of the city. Not only you will visit the old town and Lazienki Royal Park, but also the area of former Jewish Ghetto. We will also pay a Visit to the Museum of Warsaw Uprising. Overnight in Warsaw
Day 3: Wolf's Lair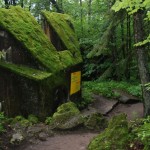 Journey north through the scenery of the Masurian Lakes to Gierloz. This is where in 1941 Hitler decided to build one of his military headquarters known as Wolf's Lair (ger. Wolfsschanze). Hitler spent around 800 days there between 1941 and 1944. The fortress is hidden in the forest and contains 80 buildings of which 50 are concrete bunkers. Wolf's Lair was also the scene of the assassination attempt against Hitler on July 20, 1944. Afterwards we will continue to Mauerwald bunkers and canal locks in Lesniewo. We will finish the day in Gdansk. Overnight in Gdansk
Day 4: Gdansk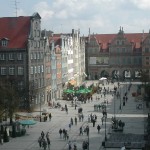 Our tour wouldn't be complete without visit to Gdansk and Westerplatte peninsula where on 1 September 1939 at 4:45am a German battleship Schleswig-Holstein opened fire on the Polish Garrison. This was the first battle of WW2." You will also listen to the story of famous defence of the Polish Post Office in Gdansk. We will take a walk through the historical city centre of Gdansk to explore all the major sights filled with stories and architecture. Afterwards we will see the Museum of World War 2, opened in 2017. Overnight in Gdansk
Day 5: Kulmhof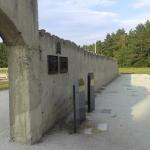 This is going to be a long but very interesting day. Drive South this morning to Torun, famous for its medieval spatial layout and gothic architecture. We will spend there 3 hours and have opportunity to taste delicious Torun gingerbread.
Then we will continue to the village of Chelmno nad Nerem (German: Kulmhof). This is where in 1941 the first German extermination camp within the territory of pre-war Poland was established. Local guide will tell us the story of this place and after 2 hours Sightseeing we will continue to Uniejow where we will spend the night. Overnight in Uniejow

Day 6: Wroclaw
Just after breakfast we head South West to Wroclaw, the capital of Lower Silesia. Prior to World War 2 it was known as Breslau (German). Wroclaw has 1000 years of history and World War 2 was a tragedy for the city. It was almost intact until 1945 when the city's siege by the Red Army began. "Festung Breslau" capitulated on 6 May 1945 – four days later than Berlin. In the afternoon we will meet a local guide who will explain you the history of Wroclaw while walking around the old town. Overnight in Wroclaw

Day 7: Riese Complex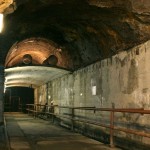 This will be the day devoted to World War 2 sites in Lower Silesia. We will start from KL Gross Rosen, located 1 hour drive from Wroclaw. Established in 1940 was a subcamp of the concentration camp Sachsenhausen. Our next stop will be Undeground City of Osowka. Situated in the heart of Owl Mountains was a part of Riese Complex. Afterwards we will continue our trip to Von Moltke's Palace in Krzyzowa (meeting place of members of the anti-Nazi resistance group). Overnight in Wroclaw
Day 8: Auschwitz Birkenau
Our journey takes us next to Oswiecim (German Auschwitz), a town in Lesser Poland that during WW 2 became the site of genocide and crimes against humanity.  Not only was Auschwitz Birkenau a labour camp but also extermination centre of European Jews. We will spend about 3,5 hours with local guide there, see the permanent exhibition, authentic camp buildings in Auschwitz I and the most important sites in Birkenau (Auschwitz II). It takes less than 1,5 hours to get from Auschwitz to Krakow and this is where we will go for overnight. Overnight in Krakow

Day 9: Krakow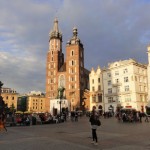 We will start our thematic tour with a Krakow sightseeing. In contrary to other Polish cities Krakow did not suffer destruction in World War II. It was taken by the German army just at the beginning of the war and the Wawel castle became the residence of the Nazi governor Hans Frank. You will have the opportunity to admire the authentic Old Town and walk along original cobblestone streets. Although Krakow wasn't destroyed during the war, its population was decimated when 70,000 Jews from the Krakow ghetto were sent for extermination. Dinner and overnight in Krakow.
Day 10: Return to Warsaw
Today is your last day in Krakow. In the morning you'll have free time to explore it on your own.
Then we will say farewell to Krakow and make our way back to Warsaw. Journey should take about 4,5 hours. In the evening we will invite you for a final dinner.

Day 11: Departure from Warsaw
Breakfast and transfer to Warsaw Chopin Airport
| Tour Date | Double occupancy | Single occupancy |
| --- | --- | --- |
| 10/May/2019 - 20/May/2019 | 1725 USD / per person | 2060 USD / per person |
| 28/June/2019 - 8/July/2019 | 1725 USD / per person | 2060 USD / per person |
| 26/July/2019 - 5/August/2019 | 1725 USD / per person | 2060 USD / per person |
| 30/August/2019 - 9/September/2019 | 1725 USD / per person | 2060 USD / per person |
| Tour Date | Double occupancy | Single occupancy |
| --- | --- | --- |
| 10/May/2019 - 20/May/2019 | 1515 EUR / per person | 1805 EUR / per person |
| 28/June/2019 - 8/July/2019 | 1515 EUR / per person | 1805 EUR / per person |
| 26/July/2019 - 5/August/2019 | 1515 EUR / per person | 1805 EUR / per person |
| 30/August/2019 - 9/August/2019 | 1515 EUR / per person | 1805 EUR / per person |
| Tour Date | Double occupancy | Single occupancy |
| --- | --- | --- |
| 10/May/2019 - 20/May/2019 | 1325 GBP / per person | 1580 GBP / per person |
| 28/June/2019 - 8/July/2019 | 1325 GBP / per person | 1580 GBP / per person |
| 26/July/2019 - 5/August/2019 | 1325 GBP / per person | 1580 GBP / per person |
| 30/August/2019 - 9/September/2019 | 1325 GBP / per person | 1580 GBP / per person |
| Tour Date | Double occupancy | Single occupancy |
| --- | --- | --- |
| 10/May/2019 - 20/May/2019 | XXX AUD / per person | XXX AUD / per person |
| 28/June/2019 - 8/July/2019 | XXX AUD / per person | XXX AUD / per person |
| 26/July/2019 - 5/August/2019 | XXX AUD / per person | XXX AUD / per person |
| 30/August/2019 - 9/September/2019 | XXX AUD / per person | XXX AUD / per person |
| Tour Date | Double occupancy | Single occupancy |
| --- | --- | --- |
| Date | XXX CAD / per person | XXX CAD / per person |
| Date | XXX CAD / per person | XXX CAD / per person |
| Date | XXX CAD / per person | XXX CAD / per person |
| Date | XXX CAD / per person | XXX CAD / per person |
Price includes:
airport pick up from Warsaw Chopin airport
transportation with an air-conditioned minibus Mercedes Sprinter
accommodation at centraly located 3 stars hotels (10 nights)
10 breakfasts
an experienced driver
a passionate, English-speaking tour leader
2 three courses dinners (on the first and on the last evening)
private licensed guide in Mamerki – Wolf's Lair & Lesniewo
private licensed guide in Gdansk
private licensed guide in Torun
private licensed guide in Kulmhof
private licensed guide in Gross Rosen
private licensed guide in Riese Complex
private licensed guide in Krakow
guided tours in Auschwitz Birkenau
entrance fees to Wolf's Lair, Mamerki (Mauerwald), Museum of WW2 in Gdansk, Riese Complex, Krzyzowa, Schindler's Factory, St Mary's Church, Remuh Synagogue
cruise to Westerplatte
transfer to Warsaw Chopin Airport on the last day
parking fees
door to door service
VAT (tax)